Using Amateur Radio back in January of 2015, Builth Wells High School students question Tim Peake on the International Space Station.
Eight students from Builth Wells High School and two others from Gwernyfed High School had just eight minutes in order to question Tim Peake as the space station travelled 215 miles (346km) above Wales.
Adam Toffarides (MW0XDD), the chairman of the Brecon and Radnor Amateur Radio Society, had organised the event with ARISS.
Builth High School pupil Caitlin Evans asked the astronaut what training he had to undertake ahead of his space mission. He told her he had to go through six years of training to prepare for the space mission and carries out two hours of exercise a day now he is in space.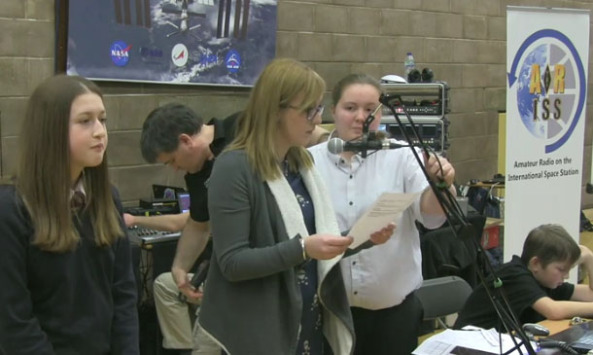 Wales Online carried an interview with Adam Tofarides MW0XDD, Chair of the Brecon and Radnor Amateur Radio Society. Adam gained his Foundation licence in April 2014, and progressed to Intermediate and Advanced in October and December of the same year. He said the contact was an "amazing experience". He added: "The hall was completely packed out. There must have been around 170 people."
"No-one could quite believe it was going to happen and we were quite stunned when we got hold of Tim on the first attempt."
"It's the first and last time it's going to happen in Wales that we'll be able to speak a British astronaut while they are at the ISS."
"It's an achievement to inspire these pupils and encourage them to carry on with this in the future."
For more informatuion on how to become an Amateur Radio Operator, see this post: https://barars.org/get-licenced/
Sources:
BBC Wales video report of the contact http://www.bbc.co.uk/news/uk-wales-35735473
BBC Wales Today show at 18:00 on March 5 had a report start at 3:40 into http://www.bbc.co.uk/iplayer/episode/b071y4cm/bbc-wales-today-05032016
Wales Online http://www.walesonline.co.uk/news/wales-news/pupils-welsh-high-school-spoke-10995463
County Times http://www.countytimes.co.uk/news/159450/builth-wells-high-school-makes-contact-with-tim-peake-on-international-space-station.aspx
ITV News http://www.itv.com/news/wales/update/2016-03-05/welsh-pupils-to-quiz-astronaut-tim-peake-via-live-link/
ARISS contact planned for Mid Wales schools https://amsat-uk.org/2016/03/01/ariss-contact-planned-for-school-in-mid-wales-uk/
AMSAT-UK https://amsat-uk.org/2016/03/05/news-powys-schools-tim-peake/